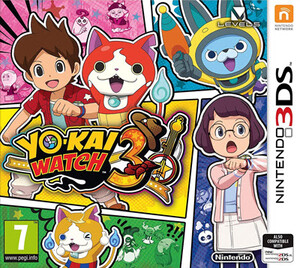 Download Roms Yokai Watch 3 3ds Usa Europe Multilanguage Cia Free 1 link, updates and dlcs, apk, citra android emulator, apple, mac os x. Yokai Watch 3, the Level-5 game proposes a new adventure of ghosts and clocks in American lands. The protagonists of the game will experience the third episode of the franchise in the United States, a new story and a completely new combat system as well as new content and functionalities, including new characters for Yokai Watch 3. YoKai Watch 3 takes the player to meet Valeria Luna and Usapyon, a couple of detectives willing to solve all kinds of cases in Floridablanca. The video game allows you to explore St. Petersburg, an American-inspired place where the Merican Yo-kai roam freely. In total, a total of 600 Yokai creatures await players to meet.
Title: Yokai Watch 3
Language: English, Español, Fr, De, It……
Size: 3 Gb
Region: Free
Format: 3ds -Cia
Instalation
Unzip the compressed files.

Copy them to the memory of your 3ds console

Enter the FBI from the 3ds console

Install the game first, then the updates, at the end the dlc.

Once all the facilities are ready, play and enjoy the game.
Download
Base Game:
Base Game .Cia(For Console): English, Español, Fr, De, It……
Español
English
Frances
Italian
Base Game .3ds(For Emulator Citra): English, Español, Fr, De, It……
Password: worldcia3ds.com