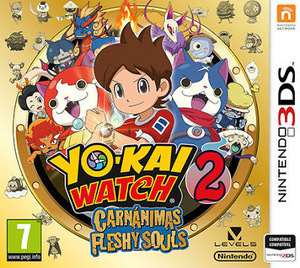 Download Roms Yokai Watch 2 Carnanimas 3ds Usa Europe Multilanguage Cia Free 1 link, updates and dlcs, apk, citra android emulator, apple, mac os x. Travel back in time in this new role-playing adventure, which reveals the origin of Keita's powerful watch, which is the tool he uses to capture and train the enigmatic Yokai creatures by teaming up with Hovernyan, a heroic cat. Yo-Kai Watch 2 returns to Floridablanca, but it comes with an online multiplayer as a novelty compared to the first installment, as well as a total of 350 new and well-known creatures to find or a new watch model: the Yo-Kai Watch Zero. Yokay Watch 2 has 2 different editions, Fantasqueletos and Carnáminas.
Title: Yokai Watch 2: Fleshy Souls
Language: English, Español, Fr, De, It……
Size: 2.8 Gb
Region: Free
Format: 3ds -Cia
Instalation
Unzip the compressed files.

Copy them to the memory of your 3ds console

Enter the FBI from the 3ds console

Install the game first, then the updates, at the end the dlc.

Once all the facilities are ready, play and enjoy the game.
Download
Base Game:
Base Game .Cia(For Console): English, Español, Fr, De, It……
Base Game .3ds(For Emulator Citra): English, Español, Fr, De, It……
Update + Dlc
Password: worldcia3ds.com