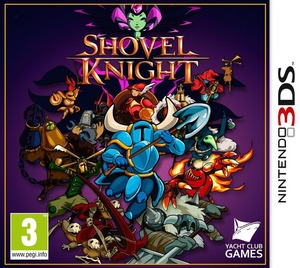 Download Roms Shovel Knight 3ds Usa Europe Multilanguage Cia Free 1 link, updates and dlcs, apk, citra emulator android, apple, mac os x. Shovel Knight is a 2D platformer presented in 8-bit graphics (but looks very similar to 16-bit) where players control the eponymous protagonist who collects treasures and fights the Order of No Quarter. Shovel Knight's main forms of attack are his shovel, which he uses to attack enemies head-on and dig up treasure, or aim down while jumping to bounce off enemies, similar to DuckTales' pogo jump. Upon finding the hidden vendor in most levels, the player has the choice to purchase accessories that have a chance to be used with a limited amount of magic.
Title Shovel Knight
Language: English, Español, Fr, De, It……
Size: 135 Mb
Region: Free
Format: Cia
Instalation
Unzip the compressed files.

Copy them to the memory of your 3ds console

Enter FBI from the 3ds console

Install the game first, then the updates, at the end the dlc.

Once all the installations are ready, play and enjoy the game.
Download
Base Game:
Base Game .Cia(For Console): English, Español, Fr, De, It……
Password : worldcia3ds.com