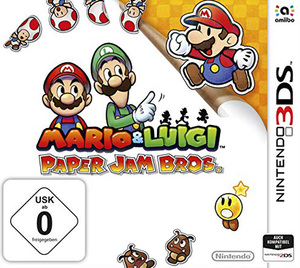 Download Roms Mario & Luigi: Paper Jam Bros 3ds Decrypted Usa Europe Multilanguage Cia Free 1 link, updates and dlcs, apk, emulator android citra, apple, mac os x.Paper Jam is a turn-based RPG based mainly on the Mario & Luigi game series. Players control Mario, Luigi, and Paper Mario (a character based on Mario's appearance in the Paper Mario series) both in battle and in the overworld. Mario and Luigi, the two most emblematic Nintendo characters together again in this adventure video game for 3DS that mixes platforms, role-playing, lots of humor and interesting mini-games. oh! and paper, since the game combines the classic RPG essence of Mario & Luigi with the Paper Mario philosophy. A paper Mushroom Kingdom in which there is no lack of Bowser, Toad, the Goombas, the new Cartoñecos and all the rich Nintendo imaginary with several hours of duration.
Title: Mario & Luigi: Paper Jam Bros
Language: English, Español, Fr, De, It……
Size: 340 Mb
Region: Free
Format: Cia – 3ds
Instalation
Unzip the compressed files.

Copy the game to the memory of your 3ds console.

Enter the FBI from the 3ds console

Install the game first, updates, dlc last.

Once all the installations are ready, play and enjoy the game.
Download
Base Game:
Base Game .Cia(For Console): English, Español, Fr, De, It……
Base Game .3ds(For Emulator Citra): English, Español, Fr, De, It……
Password: worldcia3ds.com