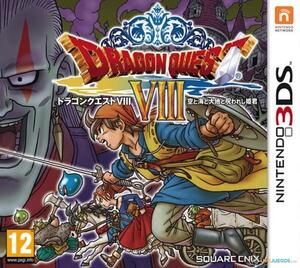 Download Roms Dragon Quest VIII: Journey of the Cursed King Uncensored Undub 3ds Decrypted Usa Europe Multilanguage Cia Free 1 link, updates and dlcs, apk, citra android emulator, apple, mac os x. The game begins with the Trodain kingdom's court jester, Dhoulmagus, stealing an ancient scepter and placing a spell on Trodain's castle. The spell turns the king, King Trode, into a troll; the princess, Medea, on horseback; and the rest of the inhabitants of the castle in plants. The only one unaffected is the unnamed protagonist, a Trodain guard. The guard, King Trode, and Princess Medea set out on a quest to locate Dhoulmagus and break the spell. They are joined by Yangus, a bandit whose life the hero saves from a collapsing bridge; Jessica, a magician who seeks to avenge her brother; and Angelo, a Knight Templar with a penchant for flirting and gambling. Following the murderous trail of Dhoulmagus, the group travels west across the ocean. Eventually, the party hunts down Dhoulmagus and kills him, but Dhoulmagus's death fails to break the spell. Jessica reclaims Dhoulmagus's scepter and soon after disappears.
Title: Dragon Quest VIII: Journey of the Cursed King – Uncensored – Undub
Language: English, Español, Fr, De, It……
Size: 1.5 Gb
Region: Free
Format: Cia – 3ds
Instalation
Unzip the compressed files.

Copy the game to the memory of your 3ds console.

Enter the FBI from the 3ds console

Install the game first, updates, dlc last.

Once all the installations are ready, play and enjoy the game.
Download
Base Game:
Base Game .Cia(For Console): English, Español, Fr, De, It……
Base Game .3ds(For Emulator Citra): English, Español, Fr, De, It……
Password : worldcia3ds.com